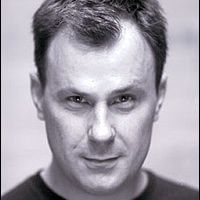 Month Upon a Time, Episode #3 (August): How does one find words to describe the force of nature that is Brooks Ashmanskas? "Funny," "outrageous," "fearless" – they just don't seem to do him justice.
Brooks and I crossed like ships in the night 15 years ago, when he made his Broadway debut taking over the role of Bud Frump from me in the last (first) Broadway revival of How to Succeed…. That marked the start of a truly impressive Broadway career that has included such plays and musicals as Dream, Little Me, the Bernadette Peters Gypsy, The Producers, The Ritz, Present Laughter, Promises Promises, and of course his Tony-nominated turn in Martin Short: Fame Becomes Me.
Add to that a bunch of Off Broadway and regional productions and wonderful recordings (Songs for a New World, It's Only Life) and you start to get a sense of how versatile and accomplished and BUSY a guy he is!
Big thanks to Dan Adler, who put forward this month's song idea and is about to participate in his fourth consecutive Burning Man! If you don't know what Burning Man is, you should definitely check it out. It seems like an amazing event….
And special thanks to the wonderful composer Debra Barsha for her great song idea, which isn't the central idea for this song but is woven in nonetheless.
This episode was recorded August 19, 2011.