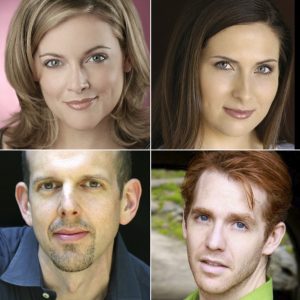 Month Upon a Time, Episode #7 (December): Remember back in the day when the holiday season would bring all kinds of special episodes of TV shows or even better, all singing/all dancing TV specials? Well, this is my interpretation of the holiday special, and what makes it so special is the fact that it's my first group podcast!
Actually, I think it was inevitable. First of all, even though this is the 7th episode of the Month Upon a Time podcast, it will ultimately serve as the 12th song in the final song cycle. So I was thinking I should give it some kind of big finale. Then came Rene Ruiz's (@ReneSRuiz) suggestion that I write a "lament of a Christmas Caroling quartet and you should write it in four part harmony." Bingo! (Meanwhile, do I need to mention that Rene is one of the members/founder of the amazing a cappella vocal group Toxic Audio?)
It so happens that I had just seen the Goodspeed Opera House's wonderful production of City of Angels (with amazing costumes by my best friend Tracy Christensen), and the great sounds of their Angel City Four were still in my head. So who better to sing this? However, given that it was the middle of the hectic holiday season, only half of the Angel City Four (Mick Bleyer and Sierra Rein) were available, so I brought in my friend and Broadway (Wicked, Legally Blonde, 9 to 5) ringer, Gaelen Gilliland, to sing the soprano part, with me on tenor completing the quartet.
What should we call ourselves? How about "Swingers Unlimited," since I found myself thinking about that popular Singers Unlimited Christmas album as I wrote this?
It should also be mentioned that Mick and Sierra are 2/5's of the singing group, Marquee Five, the 2010 MAC Award winners for Best Vocal Duo/Group, who've just released their first recording, 8-Track Throwback! And those of you in the Cleveland area can look forward to Gaelen's performance in the upcoming production of Sondheim on Sondheim at the Great Lakes Theater.
Best wishes to all for a Happy New Year!
This episode was recorded on December 29th, 2011.