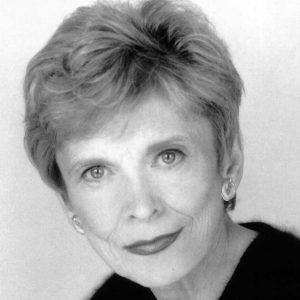 Bonus Episode #7: 46 years ago this month, Rita Gardner was opening as Luisa in The Fantasticks, a then unknown Off-Broadway musical. Could she ever have imagined at the time that the show would have such an historic run, that she would be rapping on Broadway today, that there would be such a thing as podcasts and that she'd be on one? Lucky for us, it's all true.
I met Rita last year in rehearsals for The Transport Group's production of The Audience, directed by Jack Cummings III. I was fortunate enough to have been one of the songwriters on the show, and my assignment was to write a piece for Rita's character, Rosie, a woman who attends the theatre with her dead husband's ashes. In a private moment, she sings to the urn. Rita stopped the show every night with her sensitive rendition of "I Think." Recorded 5/22/06.
Now, Rita's stopping another show with a very different kind of performance! She's appearing as Rosie, the rapping grandma, in this season's Broadway crowd pleaser, The Wedding Singer, based on the Adam Sandler film of the same name. She sings, she raps, she does gymnastic tricks (well… not really) – she's wonderful!
And next month marks the release of Rita's new CD, Try to Remember: A Look Back at Off-Broadway, a live recording of her show chronicling her career Off-Broadway. It's filled with stories, songs, both classic and unknown, and of course, Rita's glorious voice.
P.S. Rita appeared in a ten-minute Raw Impressions movie musical in RIPFest #6 and was kind (read "game") enough to make a cameo appearance in my RIPFest #6 film, Freefall!