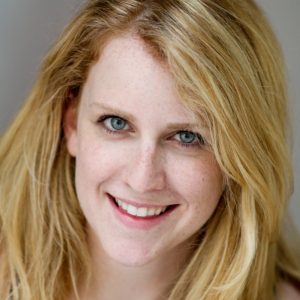 Special Episode #10: Look who's blown back into podcastville! I've come around again, and this time, I've brought a special guest – I'm so happy to introduce the young and talented Gillian Goldberg!
I had the good fortune to catch Gillian in the Barrington Stage production of Barry Wyner's Calvin Berger a few years ago. (If you listened to The BMI Workshop Songbook Podcast, you might remember Neil Patrick Harris' performance of another song from that show, "It Just Wasn't Meant to Happen.")
Gillian's wonderful performance in the role of high school student Bret in that production was indelibly imprinted in my mind, so when I needed someone to sing the role of a teen-aged girl for a demo, I knew who to call…
A graduate of The Boston Conservatory (aka BoCo), she's played other musical theatre high school gals as well: Cassandra in Saved (at The Kansas City Repertory Theatre) and Candi in Zanna, Don't (at Speakeasy Stage Company in Boston.)
Today, Gillian sings "Just Because," one of two spec songs I was commissioned to write to audition to be the composer of an upcoming new musical. I didn't end up getting the gig, but I did get this song!
Originally conceived as a trio for Gillian's character and her two best friends, today Gillian sings a retooled solo version, and as a bonus, I play the original demo as well, which, in addition to Gillian, features Nikki James and Dana Steingold as the two friends, Liz Callaway as Gillian's offstage mother, and in the role of Peg's Mother, my neighbor, Darcy, in her musical theatre debut. 🙂
Other places you can find Gillian these days? Check out the fashion blog she co-writes, A Gal's Right 2 Style.
Incidentally, if you are a teen-aged girl (or an actress who plays teen-aged girls) and would like to sing "Just Because," the sheet music is now available from my online music store.
This episode was recorded on March 14, 2011.