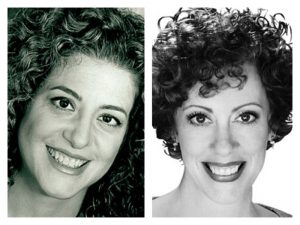 Episode #17: Twice the talent, twice the laughs, twice as long! But when you're in the room with Ruth Gottschall and Mary Testa, you just don't want to leave! I had a fantastic afternoon with the two of them, chatting and websurfing and singing "Moving Right Along", the women's version. Yes, this is the same explicit song that you heard back in January for two guys in a gay bar, rewritten for two women in a singles bar. (The lyrics for this version appear in the back of the songbook.) Recorded 4/12/06.
Where to begin? Ruth is a veteran of eight Broadway shows, most recently Jackie Mason's Laughing Room Only, however her longest run of late was as Eulalie Shinn in the revival of The Music Man, a role she will recreate this summer at the Sacramento Music Circus. Before that, you can catch her as Mrs. Upson in the sure-to-be-fabulous Kennedy Center production of Mame. Also, let PBS know that you want to see the educational series, Character Studies, so you can catch Ruth on the "Harold Hill" episode.
Mary Testa's resumé is so impressive, I don't know what to mention first! Should I start with her two Tony nominations, for On the Town and 42nd Street? Her numerous Off Broadway credits and the Obie award for On the Town and From Above? Her amazing performances on the original cast recordings of In Trousers, Lucky Stiff, A Funny Thing Happened…Forum (with Ruth too!), A New Brain, Marie Christine, and most recently, Michael John La Chiusa's See What I Wanna See? Or should I just mention that she loves Faith, the Biped Dog and Michelle Collins' blog, You Can't Make It Up? Mary fans can catch her in the concert, Hands Across the Sea, at Merkin Hall on May 16th and 17th, as well as in Jam & Spice, a Kurt Weill revue at the Westport Playhouse in June.