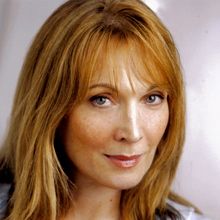 Month Upon a Time, Episode #11 (April): Remember last month when I said I wanted to do something special to celebrate my 50th podcast episode? Well, I'd say I hit the jackpot with a visit from the very special Dee Hoty!
I've been a big Dee Hoty fan since seeing her as Alaura in City of Angels, and she has never disappointed, giving standout performances in every show she graces. And she has seemingly graced them all! Between her work on Broadway and in national tours, regional theatre, and summer stock, I'm pretty sure Dee has played every leading lady role ever written, and then some. Dee is one of those actors' actors: she'll camp out on Broadway for years in big shows (did I mention she's received three Tony Award nominations?), but then she'll also pursue those labors of love, like The Transport Group's The Audience (which happens to be the only time Dee and I have appeared in the same playbill).
After years of saying "We should do something together," what a treat for me to get to hear her sing my little April song.
This month's idea comes from an old friend and fellow Plaid, Richard Roland, once actor, now director, whose one-word suggestion was simply "Taxes." (For the record, there were multiple people who suggested taxes, but Richard was officially the first. Thanks to everyone who sent ideas! One more month left… I'm going to miss that process, you guys!)
FYI, my love affair with Dee Hoty continues into May, when she will be performing (along with Drew Gehling, Sarah Stiles, and recent podcast guest Dee Roscioli) in my upcoming concert, Trunk and Disorderly: Songs from the Deep, Dark Trunk of Jeff Blumenkrantz. Did I mention that I won the Fred Ebb Award this year? Well, as part of my prize, they're sponsoring a concert of my songs on May 14 at 6:30 at the York Theatre. Seating is limited, so I can't offer you seats outright, but if you want to come, please put yourself on the waiting list by filling out the form on the other side of this link, and I'll let you know ASAP if we can accommodate. (FYI, there is no charge.) 
This episode was recorded on April 27, 2012.