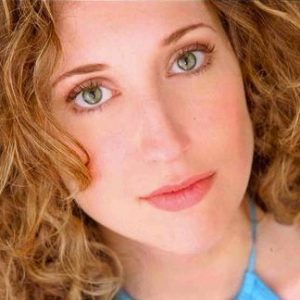 Month Upon a Time, Episode #8 (January): January… all about new beginnings, right? Well then, isn't it appropriate that my first special guest of the new year is my new bff, Courtney Balan? I've known about Courtney by reputation, ever since she stood by for both of the superstar ladies of [title of show]. But I'd never met her until last month, when we became fast friends at a mutual friend's Christmas party and then sealed the deal at the same friend's birthday party last week.
How fun to find out about all the interesting and varied projects in which she's been involved: the original casts of Broadway's In My Life and Crybaby, as well as Off-Broadway's I Love You Because, I Love You, You're Perfect, Now Change, and I Love Being a Marvelous Wonderette. (OK, that's not really the title, but I couldn't resist.)
And this season, we almost got the chance to maybe catch her playing Fanny Brice on Broadway, as she was set to understudy Lauren Ambrose in the now-cancelled revival of Funny Girl. Drat!
But wait! There always seems to be a great job awaiting her when another one falls through. This time it's being part of the original cast of the new Off-Broadway musical, Rated P for Parenthood, starting previews on February 8 at the Westside Theatre! Break a leg!
Special thanks to my college pal Allyson Rice for her one-word January suggestion that inspired this song: "Dieting." Says it all….
This episode was recorded on January 29, 2012.