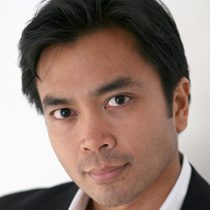 Special Episode #3: After a long break, I'm back! Last month, I finally got to meet Jose Llana at, of all places, Broadway Idol. (He was there as a judge, I was a there as a screaming Alysha Umphress fan.) As we were talking, I realized that I needed him to sing this song, so I pounced. And here he is!
Jose is remembered, most recently, for his portrayal of the adorable Chip Tolentino ("My Unfortunate Erection," anyone?) in the Drama Desk Award-winning original cast of the Off-Broadway/Broadway hit, The 25th Annual Putnam County Spelling Bee. A Broadway "veteran" at 31, he made his debut at the tender age of 19 as Lun Tha in the '96 revival of The King and I, and he's been working non-stop ever since. On Broadway, he's also appeared in Street Corner Symphony, as Angel in Rent, and as Ta, the leading man, in the '02 revival of Flower Drum Song. Add to that his stints in Off Broadway's Saturn Returns (aka Myths and Hymns) and On the Town at the Public, the National Tour of The Return of Martin Guerre, appearances on the HBO series Sex and the City and the feature film Hitch, and an eponymous solo album, Jose, that reached #2 on the charts in Manila, and you'll realize we are talking about an amazingly accomplished young guy!
Jose will be singing a self-contained song I wrote this past year, "Why Can't I Kiss You?" (Recorded 10/24/07.) After having spent the preceding six months writing songs for a project that was set in the 30's, clearly I was still in the mood. As for what inspired the song, I'll never tell….
But if you want to hear this and lots of other never-heard-before songs of mine, then hop on over to Birdland on November 4th at 7PM for a concert where I'll be bringing out the secret goodies, with the help of my amazing guest stars , Adinah Alexander, Donna Lynne Champlin, Laura Patinkin, David Perlman, and Alysha Umphress. Call 212 581-3080 for reservations, or get your tickets online now.