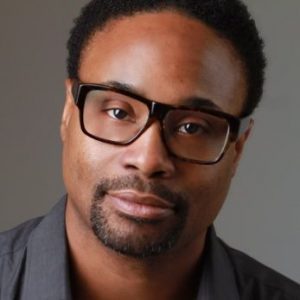 Month Upon a Time, Episode #6 (November): Look who I got for this month's episode: Ghetto Superstar Billy Porter! Billy has been a friend since the early days, and it was only a matter of time before he popped up on here. What an interesting journey and varied career he's had – everything from Star Search winner (1992) to Broadway musical theatre star to recording artist to film/TV actor to one-man-show diva to serious dramatic ekhtor, with some stops along the way for writing, directing, arranging, and choreographing. Kind of amazing.
Right now he's gearing up to play one of the leads in the upcoming workshop of the new musical Kinky Boots, based on the film of the same name. Jerry Mitchell + Cyndi Lauper + Harvey Fierstein + Billy Porter sounds like a pretty fabulous combo! Additionally, he'll be choreographing the cool new musical Pop at the City Theatre in Pittsburgh and continuing his affiliation with the fledgling theatre company Exit Pursued By a Bear. He does like to keep a full plate!
This month's song idea comes courtesy of the beautiful and talented Alexandra Silber (@alexandrasilber), late of this year's Master Class revival and the Transport Group's Hello Again. I guess having spent all those years in the UK studying and living and working, she came to regard Guy Fawkes Night as a holiday of her own. I, myself, had never heard of it until now. Special thanks to my Brit friends Suzanne (Squeezie) Thomas and John Blakey for confirming that it's really a holiday 🙂 and sharing their 11/5 experiences with me.
This episode was recorded on November 29, 2011.